Private Wedding Transfer to Playa Mujeres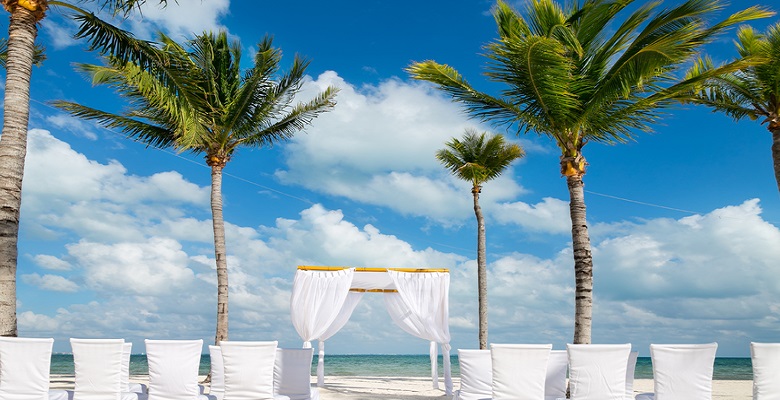 Pax
One Way
Round Trip
01-10
$97.25*
$187.45*
11-20
$195.40*
$375.55*
21-30
$230.10*
$455.35*
31-40
$293.05*
$563.20*
41-50
$391.15*
$751.50*
* Plus tax.
Private Airport Transfer to Playa Mujeres
---
---
There is no doubt about the fact that it's easy to get somewhere when you are only responsible for your own travel. But, when it's your wedding and you have family, friends and other guests coming to visit you on your wedding, things are quite different. This is where you need transportation assistance from professionals like us at American Transfers!
At American Transfers, we offer private wedding transfer to Playa Mujeres to make group transportation planning easier for you. We completely understand that when you are organizing a trip with a large wedding group, there are so many things that can go wrong. You are already stressed with so many things, and over that many a times it even becomes difficult to stay in touch and communicate with your expected wedding guests. This is why, we recommend using our private wedding transfer services to Playa Mujeres and leave everything on us to handle in the most efficient and cost effective way.
Unorganized pick-ups can get messy and add to the inconveniences of your family and friends who have specially flown in to attend your wedding in Playa Mujeres. Therefore, if you want your wedding guests to have a smooth and easy ride, then all you need to do is to book our private wedding transfers to Playa Mujeres. Once you book our private transportation services, you just need to get your guests on in our cars and only get off when the final venue arrives, and that too without any stops in the way.
Another great thing about our private wedding transportation services is the fact that your guests will not have to struggle with finding the destination by them. All our drivers are highly trained and familiar with the routes in Playa Mujeres that makes it just the right choice to avoid any delays or confusion for your wedding guests.
Hiring American Transfers for your private wedding transportation needs will offer many more amenities and benefits to your group that you will not find anywhere else. This allows great scope of comfort and relaxation for your wedding guests, who have already traveled a long and tiring distance to be a part of your wedding celebrations in Playa Mujeres. So, if you want your wedding guests to be happy and fully satisfied with their wedding transfer amenities, then you must wait no more to hire our
Private Airport Transfer to Playa Mujeres
---
Private Airport Transfer to Playa Mujeres
---
Private Airport Transfer to Playa Mujeres
---
Hiring American Transfers for your private wedding transportation needs will offer many more amenities and benefits to your group that you will not find anywhere else. This allows great scope of comfort and relaxation for your wedding guests, who have already traveled a long and tiring distance to be a part of your wedding celebrations in Playa Mujeres. So, if you want your wedding guests to be happy and fully satisfied with their wedding transfer amenities, then you must wait no more to hire our
Private Airport Transfer to Playa Mujeres
---