Private Airport Transfer to Chichen Itza
---
The Best Private Airport Transfer Service
Contrary to popular belief, it can sometimes be very tiring to fly — you not only have to deal with jet lag but also handle the cabin pressure and turbulence. Sometimes you just cannot get enough rest during your flight and the first thing you want to do once you reach the airport is to sit down and take a nap! It would be impossible if you had your car or rented one, but fortunately, with an airport transfer from American Transfers, you can "recharge your batteries" to your destination.
Safe and Effective
If you plan to travel to a foreign country, be aware that airport transfers are perfect if you are unfamiliar with the local rules and regulations. There are slight differences from one country to another, so why risk driving and getting a speeding ticket or even having your license suspended due to something you did not know? Private Airport Transfer to Chichen Itza is the best choice in this case: you can count on the driver to get you to your destination quickly and safely because he knows not only the local legislation, but he also knows the language. You do not have to worry about getting lost, especially if you go to a big city.
Private Airport Transfer to Chichen Itza
---
Terminal 4
As you exit the airport at Terminal 4, you will see the greeters team with signs in front of you. All flights included in Terminal 4: Lufthansa, Frontier Airlines, Virgin Atlantic, Air France, Sun Country Airlines, Tomas Cook, Airtransat, Condor, WestJet, Air Europa, South West Airlines, Interjet, Aero Mexico, and Tomas Cook Scandinavia.
To the right is the Air Margaritaville Snack Shop and to the left is the Meeting Point (more like an outdoor lounge).
The Berry Hill Baja Grill is to the left also and services the Meeting Point.
Terminal 3
As you exit the airport at Terminal 3, you will see all the greeters team with signs in front of you.
To the right is the Air Margaritaville Snack Shop and to the left is the Meeting Point (more like an outdoor lounge).
The Berry Hill Baja Grill is to the left also and services the Meeting Point.
If you are arriving at Terminal 2, as you exit the airport you can only go straight or to the right. Look to the right to find our greeter holding a sign with the American Transfers logo on it. He will call for your vehicle.
Around the corner to the far right is the Meeting Bar, and past that is the snack bar and shuttle that takes you to Terminal 3 if you need to go there.
T2 Terminal 2
Meeting Friends on Other Flights
If you are meeting others on different flights and arriving at the same terminal, you can hang out at one of the meeting bars outside. The first group should find our greeters and let them know where you are. If you are arriving at different terminals, the first group will need to go over to the other terminal. You can walk from one terminal to the other… it is about a 10-15 minute walk with luggage or takes the free shuttle that goes every 20 minutes between the two terminals.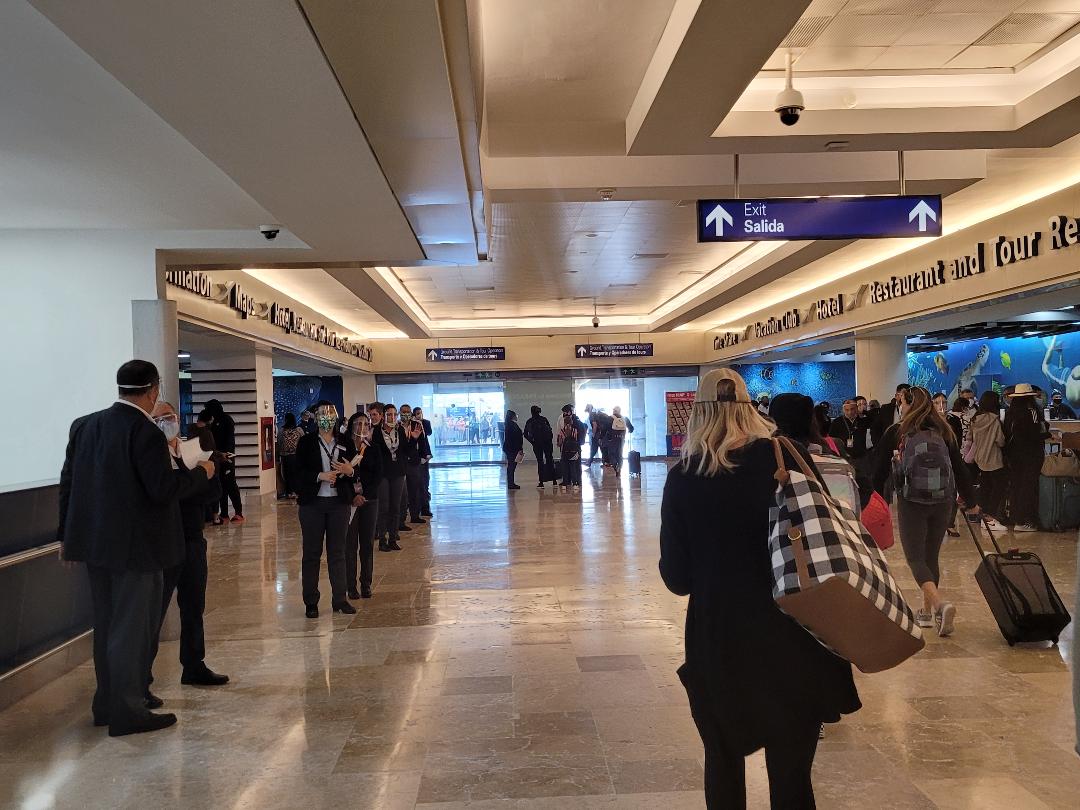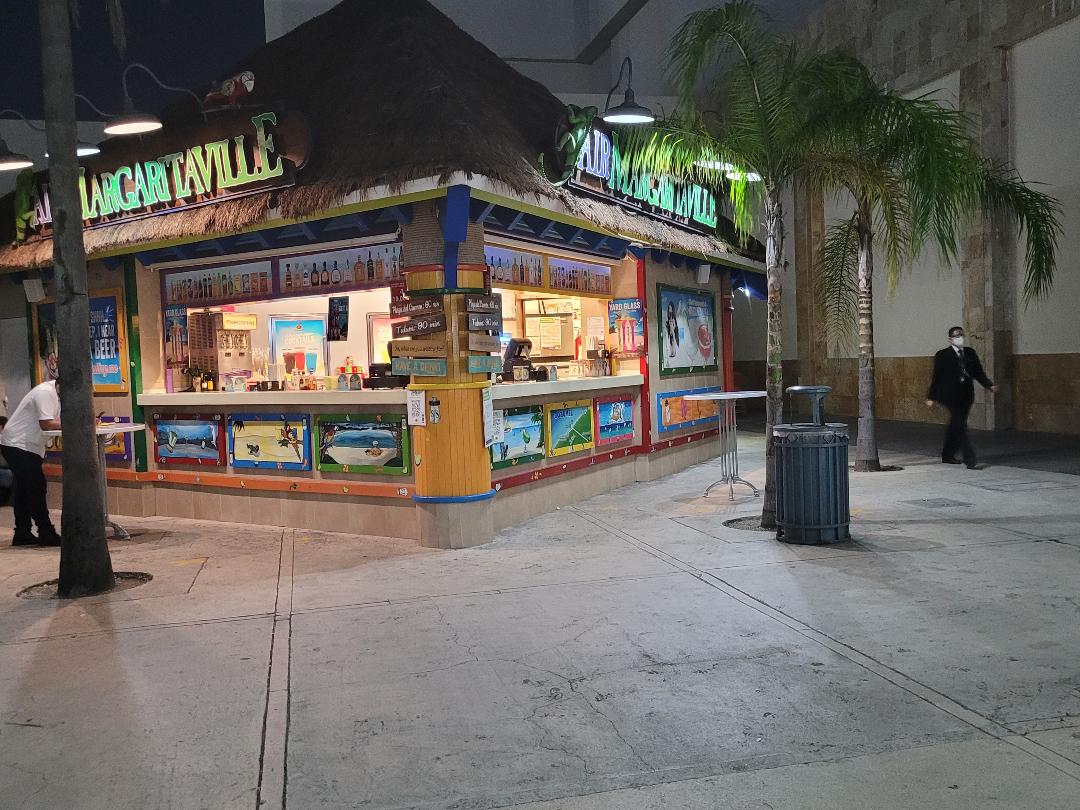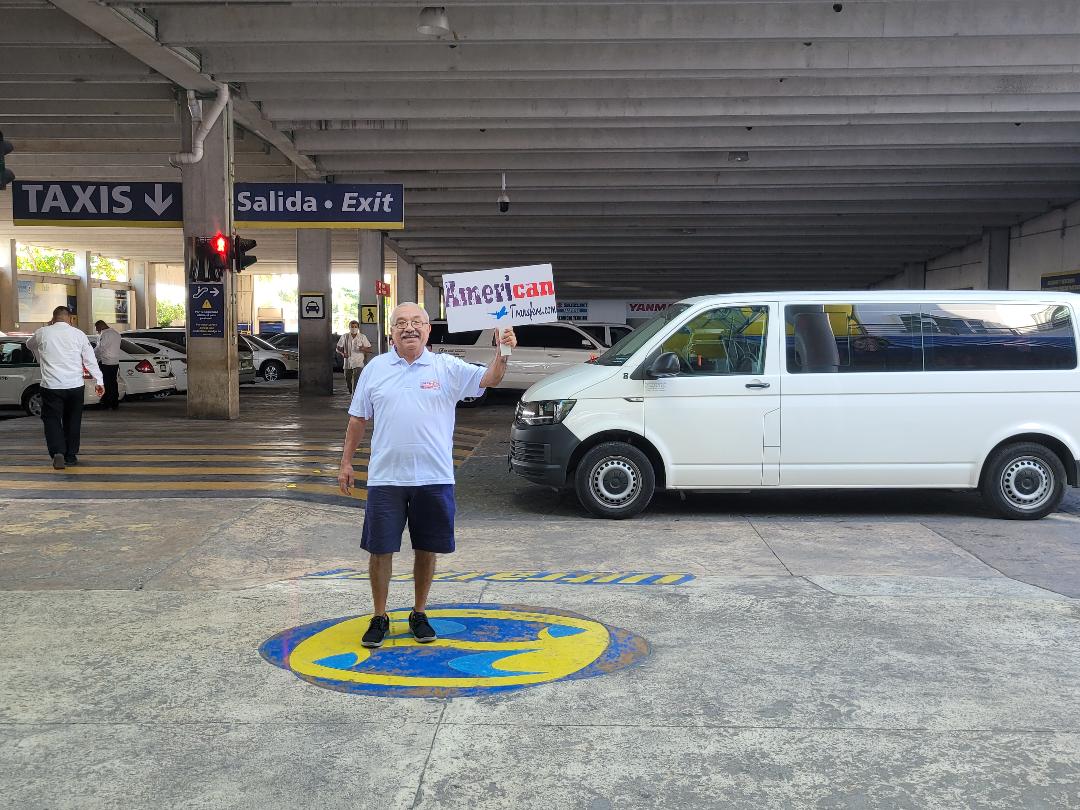 Private Airport Transfer to Chichen Itza
---
Can I call this 1-800 number from my hotel to confirm my departure?
No. It is for those lost at the airport. Also, your hotel will charge around $10 USD just to connect you to an 833-352-5893 number which is forwarded to my arrival guys at the airport. They cannot help you in any way. On the confirmation voucher is our local numbers and USA number is 641-532-7476 or use our email.
Can you have drinks waiting for us in the vehicle?
If you are going south the driver will be happy to stop at the 7/11 or you can grab a cold drink before loading into the vehicle right at the airport.
Can you take us to a restaurant or supermarket before going to our hotel?
Of course! Just email us your request and we will give you a quote for any restaurant. For the grocery stop, it is an extra $25 for each hour or partial hour. Usually, 1 hour is sufficient. It must be booked ahead of time. We will take you to the most logical store (Superama, or Walmart in Cancun or Playa Del Carmen) on the way to your hotel. We can also go to and from between hotels, parks, shopping, etc.
Do you have child seats?
Yes, BUT we can never guarantee to have it for you. It is 99% for sure but sometimes flights are delayed, traffic, changes in schedules, etc., and the vehicle with the child seat is held up. We do our best but sometimes things are out of our control. If you MUST have one, it is best to bring yours from home. Our child seats are the baby-style, rated for up to 40 lbs front-facing. We do not have the booster-style seats. Only two car seats per vehicle.
Do you take people to other cities or just Cancun?
We take you almost anywhere! Please click on the other destinations above. Email us for a price if you don't see your city.
How do I know you have my reservation?
You will receive two e-mails from us. One is for the arrival portion and the other for the departure service. These two confirmation vouchers contain all the directions, phone numbers, amounts due, etc. If you do not receive a confirmation within 24 hours, please
contact us
.
How do we find our driver?
We have uniformed staff (see above) at the airport to greet you (greeters). They hold a sign with the American Transfers logo on it. Our team is always around. Once we have you they call the driver who is parked in the main parking lot. All this info is on the confirmation voucher we send you.
How long does it take to get to my location?
It all depends on traffic conditions and the weather. The trip to the Cancun Hotel Zone generally takes between 1/2 hr or 45 minutes, but the further you go the longer it is (between 1-2 hours depending on the location you go.
If I Travel just myself do I have to pay the full price?
Yes the prices are based on 1-3 per persons 4-7 or 8-10 per persons.
What are Cancun tips?
Traveling to a new country can be an emotional challenge, especially if it's your first time abroad. With more and more U.S.citizens making their way to Cancun and Riviera Maya to visit the wonderful attractions of Mexico, being in the know about what to expect will only make things go that much smoother.
What if my flight is delayed?
We will monitor your flight. You only need to contact us if you will arrive on a different flight.
What if we can not find our driver or reception person?
Our staff is always there. Odds are they are just loading up another family into a vehicle. On the arrival confirmation voucher we will send you, there is a toll-free number for you to dial from the airport. All you need to do is download WhatsApp to contact us for free.
What is Airport Transfers?
Airport transfers are usually prepaid (through the travel agent or booking service), although they can sometimes be arranged for separate payment.
What is the usual tip?
$3, $5, or $7 max — it depends on how you feel to tip a guy when he greets to you. Tip for the driver IF he helps you with your bags, explains things to you along the way, or leaves you alone if that is what you prefer. Drivers depend HEAVILY on tips, but they know they must earn them, much like waiters. In the end, you can tip whatever, if you want, and whomever you want.
What is Tours and Activities?
Are you planning to do something different than lying down on the beach all day in Cancun and Riviera Maya? These cities have plenty of different options to choose from and you can make it as low-key or high-energy as you want. Cancun and Riviera Maya offer a wide selection of
tours and activities
on the water and land.
Who do I pay, how, and when?
You pay the driver at the airport in full. Amounts are in US dollars (no coins or bills that are torn or marked as we can't exchange them here). No traveler checks. We accept Mexican pesos (check with your driver for the current exchange rate). We accept Canadian dollars (cash only) at a rate 1.25 CAD = 1 USD for clients arriving in Cancun on any WESTJET, AIR CANADA, AIR TRANSAT, or SUNWING flight. No other flights, airlines will be allowed to pay in CDN. To make it simple, we round down to the nearest $0 or $5. Example: A USD balance of $65 x 1.25 equals $81.25 CDN. Your balance would be $80 CDN. Pay driver EXACT amount as NO CHANGE in CDN will be given. Anything more will be considered a tip.
You can also pay online.
**Check your departure voucher as it already shows a zero balance. We assume you will be paying in full upon arrival.
Will the driver take us directly our hotel?
Yes. It is a private transfer no worries at all.